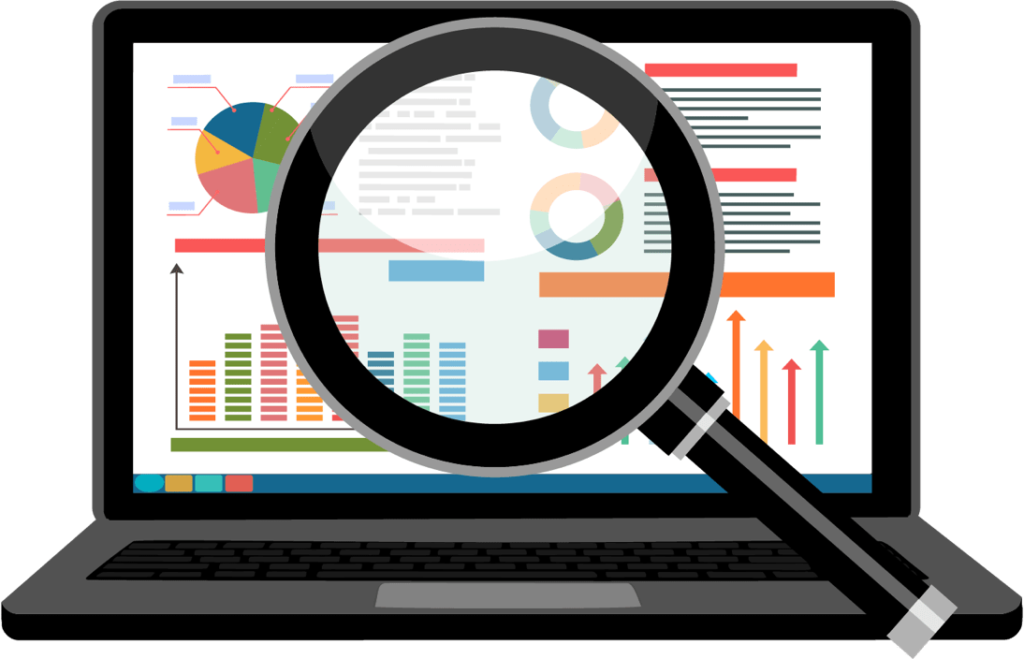 Digital Marketing Agency Fairview, TN
Muletown Digital are a Fairview digital marketing agency, focused on getting results to drive your business.
We take a full-service approach to your Digital Marketing process. We always approach your business as a unique project. We analyze your existing web presence, your competition, your goals, and make a plan to take you from your starting line to the next level and beyond.
We want your business to attract the right kind of traffic, convert qualified leads, and grow into the business of your dreams.
Let Muletown Digital's team drive the right visitors into your website to make sure your website is doing a job in your business!
The Benefits of Digital Marketing in Fairview
Digital Marketing helps your business grow while you're sleeping. Every Fairview business owner is busy and stretched for time.
Our approach helps you:
Attract qualified leads and new customers to your website utilizing Organic and Local SEO marketing plans.
Optimize your website for conversion by focusing on how users actually use your website and then adjusting to maximize your return on investment.
Gain back hours of your day. Focus working on your business while we help you grow your leads and customers.
Lower your stress levels. There is nothing more stressful than working outside of your comfort zone. Digital Marketing can be challenging, our team makes is simple and straight forward.
Get your time back. Reduce your stress. Grow your Business. 
The 3 Wheels of Digital Marketing
A successful digital marketing strategy means we look at your whole online presence. Like the wheels of a train, we create a holistic approach ensuring all the elements of your digital marketing work together cohesively, supporting each other to allow your business to Build, Ignite and Grow.
BUILD the perfect foundation
Verbal Identity – All the verbal ways you communicate about your brand.
Visual Identity – Your logo, brand colors, typography and fonts, and all of the visual facets of your business.
Content Messaging – How you communicate in every medium you use online.
Website – The brain for your digital business, where your verbal and visual identities come across most frequently to your customers and potential leads.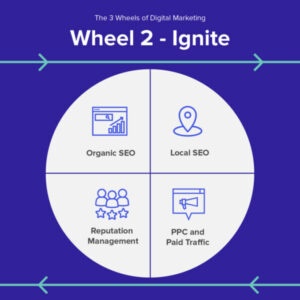 IGNITE your traffic
Organic SEO – On-site SEO, off-site SEO, technical SEO, content creation, and more, making sure your website ranks for the terms that people will be searching for.
Local SEO – Citations, local specific content, on-site optimization and more, to help local users find your business
Reputation Management – A HUGE amount of people will check for ratings and reviews before ever doing business with a company. We make sure your reviews are spot-on, helping you boost your SEO and conversions. 
PPC and Paid Traffic – Social Media, Google Ads, LinkedIn and more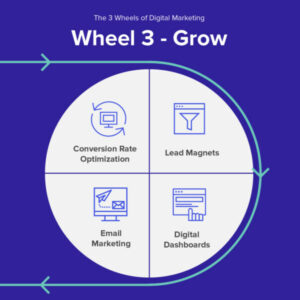 GROW your business
Conversion Rate Optimization – also called CRO, we make sure that when people do find you online, and visit your website, that they convert. 
Lead Magnets – Capture your customer's information by giving them something awesome to add value to their business or to the business owner personally. 
Email Marketing –  You have your customers' attention, so have a conversation, and start to build a relationship.
Digital Dashboards – Digital Dashboards let you know how well you're doing in the business as a whole online.
See how we can help you start marketing your business in Fairview now!
Connect with our team to see if you're ready for a Digital Marketing campaign!
Our Digital Marketing Services
Our team at Muletown Digital focuses on a full-service approach to Digital Marketing. That includes generating traffic, creating leads, and helping you grow one step at a time.
Are you ready to get started today?
See how our Digital Marketing campaigns are helping our customers in Fairview
Our Top Digital Marketing FAQs
I get most of my business from word of mouth. Do I really need Digital Marketing?
For the last 10 years or so your online presence has slowly become equally as important as your in-person presence. With the hitting of Covid-19 in the world, it's become more and more important to make sure you can market in the digital space.
The other problem with word of mouth is that you can't control it. You can't add efforts to it or promote a specific product or service. Think of Digital Marketing like a level you can pull to get new or different clients when you need or want them.
Isn't Digital Marketing just a fancy word for SEO?
SEO is 100% part of any good Digital Marketing campaign. You need traffic where you don't pay per lead. We call SEO the long-term plan. You also have the short term plan of paid traffic to your website.
Aside from just attracting them, you need to make sure you market to the ones that don't purchase immediately. If you've ever gotten a Facebook Ad after visiting a website and then decided to purchase, you've seen the process in action 🙂
Attract users. Optimize content for them. Convert them. Market to them!
How good does my website have to be to start doing Digital Marketing?
The truth is that a bad website not only will kill our SEO efforts but will also kill your ability to convert traffic. So even if we can pull a rabbit out of the hat on SEO, it's likely not to serve you well.
Here's our deal. If your website is rough, we'll let you know. If it's awesome, we'll let you know that too. No shame, just total transparency.
Do you always recommend both Paid and Organic traffic?
Every business and budget is different when it comes to running ads and doing SEO work. If you have a small budget, it's definitely a one or the other situation. We often like to start with SEO to make sure the website is working the best way possible, and then slowly move into paid traffic.
If you're already killing it on SEO, we can definitely work on everything at once. We just like to put the horse before the cart.
Are SEO results typically immediate?
No, definitely not. SEO can take up to 90 days to start working effectively. So we ask everyone to commit to at least 6 months of SEO before our team will commit to the project.
In those first 6 months, there is a lot of planning, changing, strategy, etc. After that, we dig into back-office SEO and build your authority. We'll help you build it all!
How much effort on my side does it take to see results?
For the most part, you get to be a passenger on this journey. We will absolutely need your help, but you don't have a lot of work to do. Occasionally we will need to source content from you, but you always have to option to have us create everything for you.
The good news here is that you get to be involved, but you don't have to steer the ship, we've got you!
Check Out Our Recent Insights into Digital Marketing