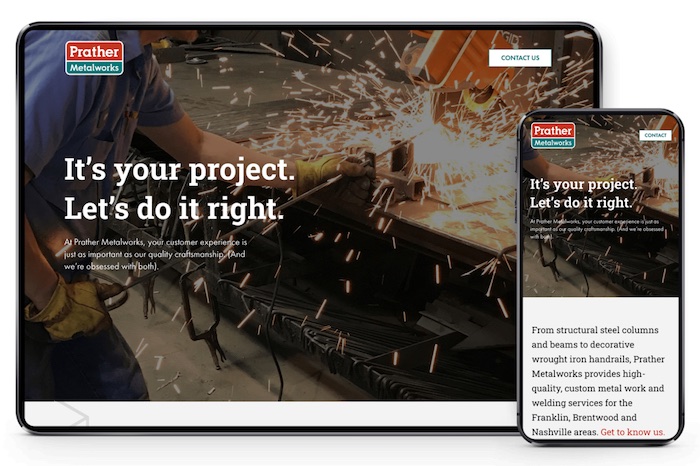 Web Development Columbia TN
Our development team at Muletown Digital lives, eats, and breathes custom website development. We are able to take your website design from a static concept and turn that into an active machine for your business.
Our team is specifically focused on website development. That allows us to bring an amazing amount of talent and focus on creating the code that creates your marketing opportunities. 
We also test everything before we deploy to production, ensuring that everything looks and functions appropriately.
Even though website development boils down to 1's and 0's in the land of programming, it can have a major impact on your business.
Code is the lifeblood of your website, and everything that it does is traced back to lines of code. Custom WordPress for the win!
All of our custom-designed sites are built on the widely used Wordpress platform, so you get the best of both worlds: a completely customized design (no pre-built themes) with a back-end that's secure, SEO-friendly, and easy to use.
Benefits:
Before we can build your site, we need to make it beautiful!
Check out our web design services and get the entire package from start to finish – done for you – done right!
What Our Clients Have to Say
Other Services Related to Web Development
Our team is at an expert web development level. With a combined experience level of 20 years, our dev team have seen and built it all.
Need some help with your website development?
Muletown Digital offer Web Development services to businesses throughout Tennessee, including Columbia, Nashville, Spring Hill, Brentwood and Franklin.
Check Out Some of Our Web Development Work
Our Top Web Development FAQs
What language or software is your team proficient in?
For full website builds our team primarily works with WordPress. We develop custom themes, custom plugins, and adapt other themes and plugins for specific uses for our customers.
We frequently work with HTML5, CSS3, SASS, PHP, MySQL, WordPress, Restful API, WooCommerce, Javascript libraries including jQuery, Angular, and more.
We've built large scale front-end frameworks, enterprise-level custom themes, and web applications for many types of applications.
Do you guys do website hosting and technical work?
Yes, we have a specifically dedicated hosting setup for our clients or anyone that are using WordPress as their CMS platform. We do not do any hosting for custom applications, we would recommend a vendor based on the application.
We can also troubleshoot issues on your website. We're experts and finding and removing malware, fixing hosting errors in other providers, working with existing website code frameworks and themes.
What is the development process like?
Our team will take the given web design and build out the framework needed to execute the project. During the development phase of our projects, our team is pretty quiet. We're just working in the basement 🙂
We handle all of our own quality assurance checking before it ever reaches the clients. We try to eliminate errors before they are visible.
Then we are always around for changes and additions as required. 
How does support work once my project goes live?
For any of our clients running on one of our website care plans, our development team is available via ticket. If the ticket requires that we hop on a call, we can absolutely do that. We start everything with an email ticket to allow our team to gather the details needed to address the issues at hand.
If you are NOT a care plan customer, we can still look at your issues, please email support@muletowndigital.com and we'll take a look for you.
Is there anything you won't develop on?
Here are some platforms that our team does not work with…
iOS and Andriod applications (we can design but will not build)
Ruby on Rails
Shopify (we can troubleshoot but will not use as a platform)
React applications (we have a great referral for you)
ASP or ASPX (I mean, who does this?) 🙂
If all of that sounds like a bunch of foreign languages, it's okay. We've got you. Hit us up and we'll see if we can help you.
What makes our team unique?
While our developers are definitely smart folks, we all know how to explain things in human terms. That's really important on a complicated project where our developers can speak directly to our clients. That's really helpful!
We have specific developers for specific things. We have front-end specific developers, as well as developers that handle big back-end integrations, and API calls. This allows us to be awesome at everything since we have more than 1 resource.
We're a lot of fun to work with. Because we manage our own projects, you get to relax and enjoy the process. Never worry that your project is sitting there unattended to, we're always working, and we're transparent about where we are in the process. It's hard to find that in development teams these days.
We care about you. The code is awesome, and we love to code. But our clients are human beings, and we actually care about your business. That eliminates budget shortcuts and the junk other places do to keep costs down. Trust us, we're here for your benefit!
Check Out Our Recent Insights into Web Development and Digital Marketing
Is updating your website like a never-ending game of whack-a-mole?
Find out how our expert team at Muletown Digital can grab that fluffy mallet for you and make your website maintenance a dream.